General information of HaloPolymer (Russia)

HaloPolymer is the largest fluorochemical manufacturer in Russia, which founded in the 1940's. Also known as the only manufacturer in Russia that has an in-house integrated production system for hydrofluoric acid (AHF), R-22, HFP (C3F6), PTFE resin, etc., using fluorite and industrial salts as the main law materials. Since they became a subsidiary of Uralchem, which is the largest chemical fertilizer manufacturer in the country, they are building a financial base that is even more solid.
Head office:Moscow (Russia)
Principal production bases:Kirovo-Chepetsk (Russia), Perm (Russia)
Principal stock bases:Busan (South Korea), Magdeburg (Germany), Houston (the US), Carteret (the US)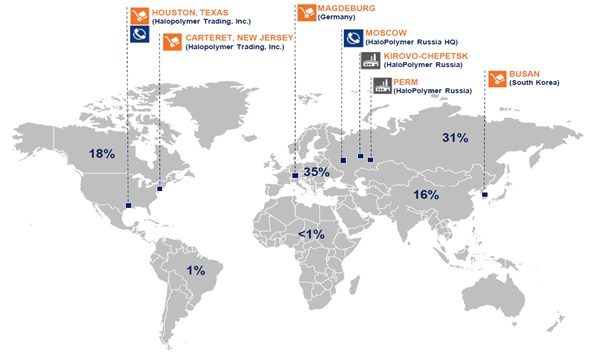 Relationship with CHORI
For many years, CHORI has been handling fluorochemicals as a distributor of HaloPolymer.
Principal commodities:Hydrofluoric acid anhydride (AHF)、R-22、R-142b、HFP (C3F6)、PTFE resin, etc.
About PTFE resin
HaloPolymer's PTFE resin has been widely sold in various industries including semiconductors, by many years of research and development. They have ample achievements, especially in Western contries.
Also, to each way of use, the product is available in various different grades as shown below;

Related content
Please do not hesitate to contact us.