About Red Star Group (China)
This group was found in 1956, as Qingdao Taitung chemical factory. It has the largest barium production capacity in the world, the largest stronthium production capacity in Asia, and is on the third place in the world on manganese production. Also, they are the first group that focused on environmental protection and established circular-type supply chain such as smoke-exhaust desulfurization technology. As a result, they are keeping their stable supply and improving customer satisfaction, even today with the reinforced environmental regulation in China.

Red Star Group and CHORI

The group and CHORI, as business partners, have been increasing overseas market share and taking strategies that customers' needs come first, such as loans and investments in the group and joint development of new products for more than 40 years, not only as sales agency for foreign countries. Even today with the rapid change of customers' needs, we are keeping our relationships that we obtain the market information and the same group invent products based on the provided information.
Main production bases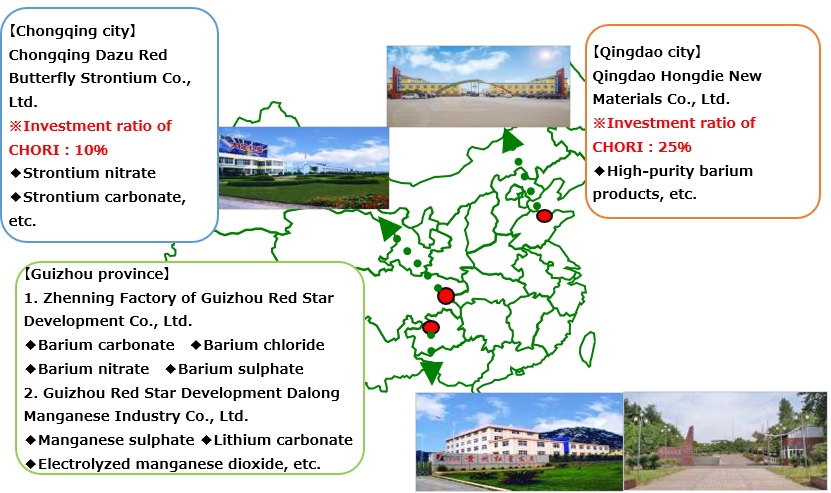 Competitiveness and Superiority



They own in-house mine for all the products; Barium, Strontium, and Manganese. They realize steady supply that is the foundation of Red Star group, considering of safe mining.
They succeed in production of low grade barium sulphate from barium residue, and accomplish leaving zero barium residue. Also, with smoke-exhaust desulfurizer, they process and control the amount of sulfur dioxide emissions that are significantly below the province's norm.
They manage impurities with the latest analytical equipments, such as atomic absorption, ICP, etc. They also correspond to analysis related to particle size such as particle size distribution, specific surface area, and porosity. They contribute to stable quality control based on customers' needs.
Related contents
Please feel free to ask us about red star group.