Supplier:Samkwang Corporation
Samkwang is a manufacturer who boasts a market share of over 80% in South Korea, as a factory of sodium nitrate with high purity. Ulsan, where the factory is located, is known as one of the leading industrial areas in South Korea, and has the aadvantage that they can get raw materials easily because it is close to the Busan port. Taking advantage of these location conditions, they expand their business globally.
Interview with Kim, President of Samkwang, South Korea (recorded in March 2021) *Audio: Korean, Subtitle: Japanese
Company profile and Production items , Production capacity
Samkwang Website:http://www.3kwang.com/eng/
Headquarters/Ulsan Factory: 83, Yongyeon-ro 248beon-gil, Nam-gu, Ulsan
Jincheon Factory : 766, Nongdari-ro, Munbaek-myeon, Jincheon-gun, Chungcheongbuk-do
| | | |
| --- | --- | --- |
| Item | Production capacity(MT/Year) | Main contents |
| Sodium nitrate | 12,000 | We have a dedicated line for sodium nitrate, and we have a share of more than 80% in South Korea. |
| Potassium nitrate | 5,000 | We has mainly manufactured fertilizers, but since 2018, we has also started producing potassium nitrate for industrial use through improvements in equipment. |
| Alkali flocculant | 36,000 | We Started commercial production in Korea for the first time as a highly basic flonic. Alkali chemicals (caustic soda) used in the wastewater treatment stage and acidic flossants (PAC, aluminum sulfate, etc.) can be used as an alternative. It is excellent in wastewater treatment of acidic and fluorine-containing heavy metals, can be managed as a non-toxic substance, and produces products with excellent efficiency. |
| Alkali chemicals mixture | 180,000 | Acid wastewater neutralizer" developed directly by our company. It is used for exhaust gas treatment agents and acidic wastewater neutralizers. Products in which sodium hydroxide, sodium carbonate, etc. are adjusted at an appropriate blending ratio. |
| Calcium chloride | 12,000 | We react with rare hydrochloric acid and calcium carbonate to manufacture various grades of calcium chloride (liquid) from 23% to 35%. It is used for anti-freeze agents and fluorine treatment agents. |

Specification of Sodium Nitrite for reference
The following specifications are examples. We can customize the specification according to your needs. Please feel free to contact us.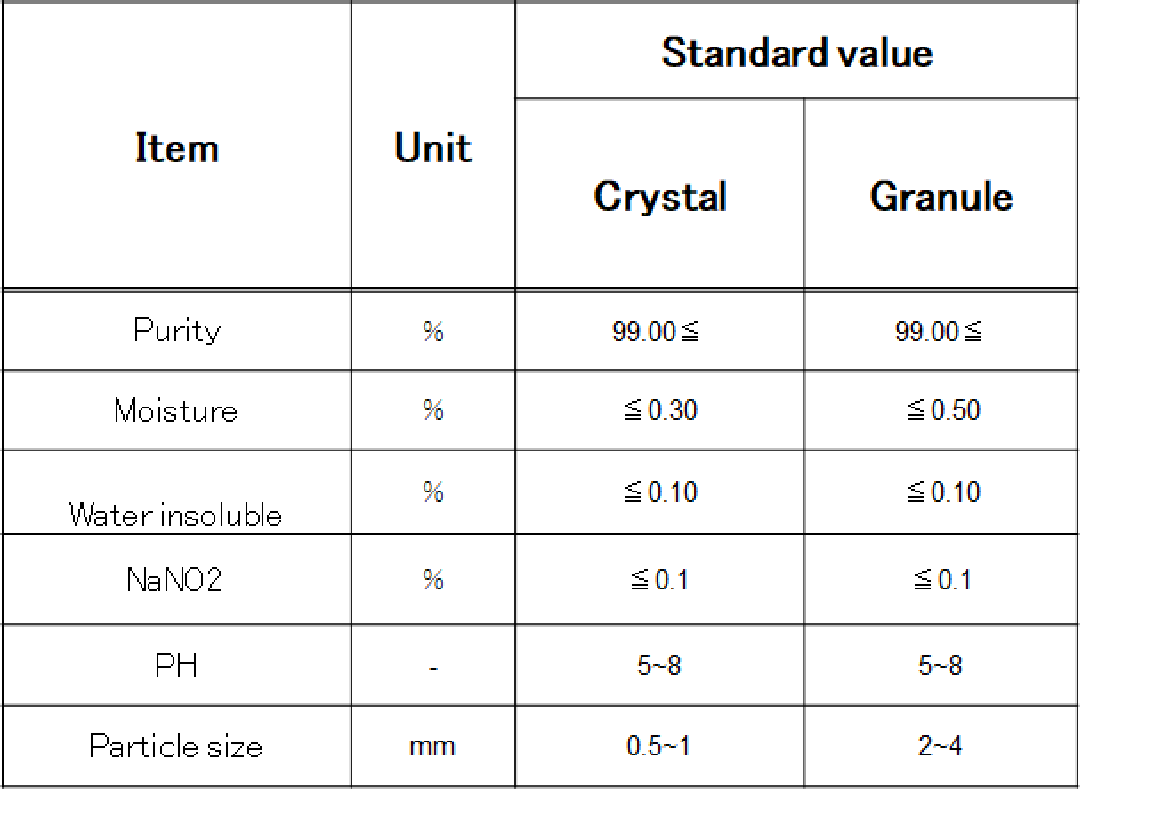 Related content
Please feel free to contact us about Samkwang Company.